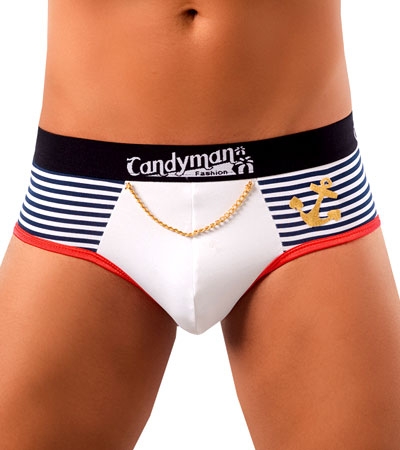 If you have been looking for an underwear company who specializes in a wide variety of underwear, we believe we have found that company for you.  Candyman offers the modern man a chance to express himself in a new line of fashions.  Whether you want to be a police officer, a tux wearing gentleman, or a dirty devil, they offer the perfect selection of patterns and appropriate accessories.  If there is something we believe in at UNB, it's that men should express their inner selves.  There's no better way to do that than pull on a pair of Candyman underwear and be your inner fantasy man.
Recently, I wore the Sailor Brief in size medium.  I normally wear a small (31" waist), but after speaking with a fellow reviewer, I chose the medium.  Going one size up in most underwear brands means loose briefs.  The fit was perfect for me with no drooping, no binding, and staying in place wasn't an issue.
The cut allowed for perfect coverage.  I don't know if this would be called a full brief but I would not call it a hip brief.  However corny it may sound, I would call it an awesome brief.  Made of 92% Polyester and 8% Spandex, the material is smooth to the touch and allows for a fair amount of stretch.  The wash instructions are to wash separately, do not bleach (of course), and to drip dry.  That can be taken in different ways, but my mind would believe they mean hand wash.  The material is not the only aspect of the underwear that would lead me to believe these should be hand washed.
A gold chain is located on the pouch underneath the waistband.  This addition to the brief is questionable.  The chain's only purpose is aesthetic and is held on by one or two loops of thread through the underwear material…not the waistband.  This can easily be broken off in the wash.  I personally had a few issues with the chain while wearing the brief when in the restroom.  The chain would get in the way when lifting up the tucked in shirt and pulling down the waistband.  Another reason to be careful with washing is the anchor on the left leg.  The glitter substance used to create the symbol, over time, may deteriorate from the harsh washing detergents.  My personal suggestion is to hand wash these delicates and then hang them up to dry.
The Sailor Brief is a great feeling brief and one that will make a seaman out of you whenever the mood strikes.  Minus some construction issues, this is a nice brief to add to your collection.  Would I think this brief is a daily wear brief?  Maybe if you are careful.  Make sure you watch for the chain when reaching in to the fly of your pants.
| | |
| --- | --- |
| Fit | 5 |
| Materials | 5 |
| Construction | 3.5 |
| Look | 5 |
| Daily Wear | 4 |
| Overall | 4.5 |
You can purchase a pair of the Candyman Sailor Briefs at Freshpair.com for $26.00.  Check out the Candyman website at http://www.candymanfashion.com and see what other styles you might fancy.
Thanks to Candyman for supplying these briefs for review.